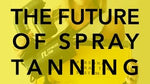 The Latest Spray Tan Machine Technology
Handy is an understatement!
This compact handy little system is lighter then most hairdryers making it so easy to spray tan yourself, friends or clients in no time at all!

Like all spray tanners we are use to a large spray tan machine sitting on the floor with a not very long hose to maneuver around the room, lugging this great big machine from client to client and finding it not very easy to store away. I have been use to this type of machine for years now!

Well when I was given the Handy Tan System to tryout I was skeptical at first – thinking its too small how can this system be powerful enough to give professional results…..
Well I assure you I was wrong, this system is FANTASTIC! WOW!!!!! It sure does give power in a very controlled way. The results are professional. There is far less over spray compared to my original machine and the Handy Tan System is happy to take on any spray tan product without spitting and dotting on your clients skin. When spray tanning, the solution seemed to dry quicker then normal which left the skin feeling instantly comfortable and non sticky. Another plus for me is that the power cord is 3 meters long giving you plenty room to move and easy reach to your nearest power point.
Well lovely tanners I am impressed and this is officially my new machine!!! Excited eeekkk!!!