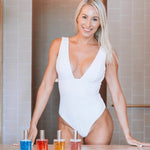 WHAT GLO MIST IS BEST FOR YOU?
What GLO Mist Is Best For You? 
Who says too much choice is a bad thing? We at Fusion tan certainly don't think so! That's why we have five different GLO mists to cater for all different skin types and concerns! 
Discover below what GLO mist works best for you and your skin! 
Cherry GLO Mist: Best for cellulite + adding firmness  
This mist is ideal for treating cellulite and adding firmness to face, legs and booty!
 The powers of this everyday berry are extraordinary, you'll be adding more to your beauty diet in no time. Sourced in Barbados from the world's richest extraction, add this magic potion for additional Collagen production, magnified Vitamin C absorption, and ultimate cell regeneration… all of which slows the ageing process and gives you the love you deserve daily.
Mango GLO Mist: Best for Cleansing pores, preventing blackheads + refreshing skin
Mango mist is ideal for cleansing pores, preventing blackheads and refreshing the skin!
Instantly luminate dull and dry skin with Vitamin A and carotene RICH Mango. Smell and glow like it's summer all year round… it's pure in its feel, its fragrance, and it's magnificent in results.
Cucumber GLO Mist: Best for hydration + and reinvigoration
If you're looking for hydration and reinvigoration, this one is for you!
This cooling free radical treatment is naturally derived to rejuvenate even the most ill-treated, deconditioned skin. Perfectly placed to soothe and radiate… cucumber is cool.
Pomegranate GLO Mist: Best for fine lines, wrinkles + pigmentation 
Fine lines, wrinkles and pigmentation will tremble when you use the Pomegranate GLO Mist! 
Botanically derived for amazing skin & GLO results, Pomegranate has been created to neutralise free radicals, stimulate keratinocyte skin cells and regenerate dry or sagging skin. If that wasn't enough, this little love potion is balanced with the world's most refined and naturally derived GLO ingredients, which ensures you a glorious sun-kissed glow within hours of application.
Mint GLO Mist: Best for dry + de-conditioned skin
Mint mist is ideal for polishing dry and deconditioned skin, then restoring that youthful GLO!
Mint is a surprising inclusion as one of the best non-abrasive ways to exfoliate and polish your skin for a youthful glow and even colour restoration.