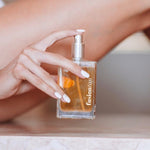 OUR TOP TIPS TO PREP YOUR SKIN BEFORE YOU TAN!
Does your fake tan ever look patchy or doesn't last as long as you want it to? It probably has something to do with what you do before you tan. To get your ideal glow, you need to do a few steps before applying our tan.  
Below are our top five tips on how to get a luscious tan!  
Step One: Exfoliate  
To remove dead skin cells and any traces of a previous fake tan, exfoliation is essential! You can use any exfoliation form as long as you do it in the 24 hours leading up to your tan.  
Step Two: Shave  
For your best chance of an even tan, hair removal after exfoliation is best. Of course, this is a personal preference, but removing your hair does give you a more even tan.  
Step Three: Cleanse Your Skin Beforehand 
After you exfoliate and shave, cleanse your skin. Use your favourite body wash and cleanse from head to toe. 
Step Four: Dry & Moisturise  
After your shower completely dry yourself and moisturise the dry areas. This includes your ankles, knees and elbows.  
Step Five: Tan Away! 
You're now ready to get your glow on using your favourite Fusion Tan product! Happy tanning!